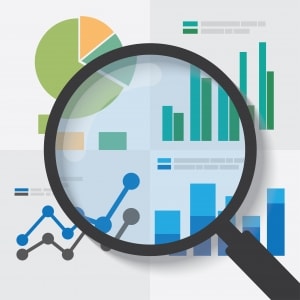 What is Big Data?
Big data. It's the most important buzz phrase in tech right now. The term does exactly what it says on the tin; big data just means lots and lots of complex data. So much of it in fact that conventional data processing or analysis applications are rendered totally inadequate.
Zeal for big data and the advanced analytics required to process it is yet to make a particularly dramatic impact on the HR industry. In fact, many HR practitioners are downright sceptical: a recent Economist Intelligence Unit survey found that 55% of respondents were unconvinced that big data analytics could make a significant difference to the world of HR. However, a big data revolution in HR could soon be on the way.
Big data revolution in HR
Firstly, HR practitioners will feel increasingly compelled to use big data analytics in order to do their job better. The HR industry in particular suffers from reliance on poor quality, inconsistent structured data. The sector is starting to recognise that big data processing methods could give HR practitioners unprecedented access to more accurate data, as well as new forms of semi-structured and unstructured social data.
Secondly, as big data becomes central to the business operations of more corporations, those working in the HR industry will find themselves under greater pressure to hire analytical whizzes who can operate institutions' big data strategies. If hiring "people people" has been a HR trend in the last decade, then hiring "numbers people" with advanced software training and formidable statistical and analytical acumen could be the next big thing. Harvard Business Review touched on this idea when it recently described the data scientist as "the sexiest job of the 21st century".
So where is the revolution?
The revolution is unlikely to happen overnight, however. According to recent Bersin by Deloitte research, companies need five to eight years to become truly data-driven. It takes years to invest in the right equipment, bring in the right people, iron out big data strategies, and find a formula that works.
Firms such as KPMG are strongly in favour of leveraging big data and advanced analytics in the HR industry. In a recent report, the firm went as far as to argue that CEOs need to lead on this and make their HR departments more accountable in terms of how they are implementing big data solutions, otherwise they could get left behind.
Advocates highlight that big data and predictive modelling can grant the HR industry insights into future workforce skills and qualifications requirements. It can help boost employee productivity and retention rates. It can provide a space for collaboration and pooling of intelligence. Big data can also grant insights into how the expectations of the market are shifting- and, thus, how the sort of people that firms hire must change too
However, some challenge the idea that big data and advanced analytics will transform the HR industry. Adam Jelic, a Partner and Talent & Change Public Sector Leader at IBM, wrote in a blogpost on the IBM website in May that analytics merely "create opportunities". It is up to the leaders and employees at companies to "implement effective and lasting change," he adds.
In particular, Jelic argues that skepticism about big data is not the biggest challenge that HR faces currently. In fact, he seems to believe that chief human resource officers are not valued or influential enough. Jelic cites the IBM study, New Expectations for a New Era: Chief Human Resource Officers (CHRO) Insights from the Global C-Suite Study, which outlines that companies tend not to see human relations as an "equitable stakeholder in a company's planning and development." Jelic contends that in order to make sure that analytics makes a positive difference in the HR industry, CHROs need "a bigger seat at the table."
Is it the most important?
In conclusion, the jury is still out on whether big data will be the most important HR trend in coming years. However, there is little doubt that big data in theory grants HR practitioners access to unprecedented levels of new information. Even if the HR departments in many companies forego taking advantage of big data and analytics, the mere fact that they are in existence means that discussion of their potential is unlikely to go away. Nonetheless, we should not lose sight of the spirit of Jelic's argument, which is that people, not data, creates change. 360 feedback is all about measuring and collecting data about people's behaviour. Its enduring relevance proves that there will always be a need to leverage "small data" too.
---