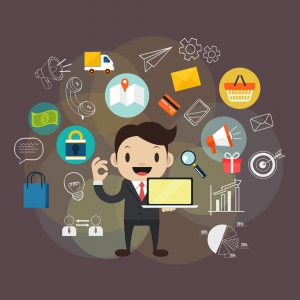 In March, the chief financial officer of Google, Patrick Pichette, announced his resignation. The reason he gave caused a stir. He said he was leaving to spend more time with his wife. "I could not find a good argument to tell [my wife] we should wait any longer for us to grab our backpacks and hit the road," Pichette wrote in his resignation letter. The Google high flyer plans to travel the world with his spouse before possibly exploring new leadership opportunities.
A flippant joke in Pichette's statement is a revealing one: "When our kids are asked by their friends about the success of the longevity of our marriage, they simply joke that Tamar and I have spent so little time together that "it's really too early to tell" if our marriage will in fact succeed." The CFO's jest and decision to leave his prestigious position at one of the most powerful companies in the world raises interesting questions about career satisfaction and how, for many of us, a work-life balance remains an elusive dream.
Research clearly indicates that many UK employees feel that they are not achieving a good work-life balance. One recent study by the private banking firm Investec found that a quarter of British workers were dissatisfied with this aspect of their job. Moreover, 29% of respondents said that their work-life balance had outright degenerated since 2010. That said, a third felt optimistic that things would improve over the next five years.
London workers seem to be the least satisfied with their work-life balance. Over one fifth of workers felt that their profession ate up too much of their time. Almost 40% said their families considered them to be "workaholics".
The head of banking at Investec, Wayne Preston, has suggested that today's labour force could be struggling with work-life balance partly because technology and the realities of working in a global marketplace make it more difficult to cut oneself off from the office out of hours.
Flexible working is emerging as one of the most important potential solutions to the work life balance conundrum. An interview with a senior Deloitte partner with twin five-year-olds published on efinancial careers recently demonstrates the advantages of flexible working. In the article, Emma Codd describes how she benefits from working from home on Fridays, when she gets to also take her children to school and pick them up.
"I never book in any face-to-face meetings – although I do do calls – and it's an opportunity for me to clear some time and really work on the strategic elements of my roles," she says. In the interview, Codd also talks about taking a five-week sabbatical this year, which she says will give her some time to be a full-time mum.
Interestingly, in the interview, Codd claims that agile working is "an imperative", especially for parents. There may well be truth in this position, given the growing child care crisis in the UK. The Family and Childcare Trust's Childcare Costs Survey 2015 found that families are increasingly likely to be better off if one parent gives up work to look after the children. The cost of a part-time nursery place had risen by a third over the last five years to around £6,000 per year, which is £1533 more than in 2010. Flexible working can potentially alleviate some of the burden: If one parents has a flexible working schedule then childcare fees can be reduced. If both can work flexibly then the cost can even possibly be avoided altogether.
Flexible working is also good for the environment. The biggest reason why is it reduces the need to travel. As travel is responsible for 22% of UK carbon emissions, the environmental benefits of working from home are significant.
However, some commentators have voiced concern that flexible working could be a cynical way for businesses to cut costs. After all, research has found that flexible working can cut office costs by as much as 13%. A 2013 Vodafone survey found that flexible working could save UK businesses £34 billion just by freeing up costly desk space; it is estimated that the average cost of a desk space in the UK is £5,746.
The latter may not necessarily be a bad thing however. It is difficult to implement cultural changes in the workplace unless businesses can see something in it for them. And if flexible working can save businesses money and make the workforce happier then surely that is a win-win situation.
---